"We are so happy that we used Joe Russell for our wedding reception! He has an awesome personality. The night went so smoothly and everything transitioned really well. I was surprised how many people were on the dance floor! We also used the video taping service and we love our footage from the weddinng and reception. Our guests tell us all the time still how much they liked our DJ!! Thanks so much!

Emily and Chris"
Emily Jones, Painesville OH
"Words cannot express enough how wonderful this company is. Joe Russel helped us out tremendously with making sure we had everything we wanted for our wedding. The process of planning with him went by so smoothly something every bride to be needs during the crazy planning of a wedding. The first time we sat down with Joe I instantly knew this was the company i wanted to provide one of the most important things for our wedding. He listened to everything that we wanted and made it happen. We had the pleasure of having DJ Mike for the evening. He was absolutely wonderful. He kept the party going all night long. Our dance floor was never empty. Before any major event was going to take place during our ceremony Mike always talked to us first. To make sure it went the way we wanted. Mike interacted with the crowd. We had a variety of different ages at our reception and he knew exactly what to play to satisfy everyone. But he always made sure that my husband and I were satisfied first. Our wedding was August 26th 2017 and 2 weeks later we still talk about the wonderful experience we had with Russel Sound Lab. We highly recommend them, we have already recommended them to friends. We will definitely be using them in the future. If you are looking at this review right now look no further this company for your special day."
Courtney Lavender, Cleveland OH
"We loved having this DJ!! Joe really kept the party going, made sure the night was running smoothly and efficiently, and most importantly made sure everyone was having fun. His sound/light system was top notch, and the music was well-heard all throughout our reception hall full of 300 people!! HIGHLY recommend this DJ company. Experienced, honest prices, friendly, attentive to detail, and so fun!"
Jayni Hershberger, Akron OH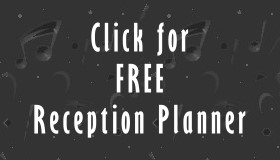 Your Canton Ohio DJ, Akron Ohio DJ and Cleveland Ohio DJ!
If you are a soon-to-be bride, the mother of a bride, or a friend helping that bride, you know you have many critical decisions to make in a short time. The biggest challenge is that most every decision affects the next one. One huge group of decisions revolves around your reception! The cake, food, having enough tables, who manages the bouquet toss and making sure grandma gets to dance with the groom. Relax. Just call Russell Sound Lab at 330-494-9317. With over 25 years of experience, we know how to ensure all those decisions are made, helping you at each step. And with all that experience, there are few others in this business that know what's going on like Russell Sound Lab does. From knowing most all of the local reception halls and their management, to knowing the best florists, caterers, photographers and more, you're on the right path with Russell Sound Lab. We are proud of the recognition that others give Russell Sound Lab; "DJ Music for any occasion!"
When choosing a wedding DJ...
You and your guests deserve the very best on your wedding night. Therefore, you just can't leave your entertainment to anyone. Your Disc Jockey can make or break the evening! If you're looking for an experienced professional disc jockey, then look no further than Russell Sound Lab!
We know what the crowds of today are looking for in entertainment, and it does change from crowd to crowd. You can rest assured that every detail will be covered with precise attention and concern.